A rickenbacker 360/12 played, and smashed, by Pete Townshend of The Who. 

The VOX Continental was an electric organ which was produced between 1962 and 1970. It was hoped that the Continental would replace the popular "tonewheel" organs, such as the Hammond B3, among touring musicians. While this didn't entirely happen, the Continental was used on a number of famous songs, such as "Light my fire" by The Doors and "House of the rising sun" by The Animals.  
Above is George Harrison's Gibson 1957 Les Paul, which he named "Lucy". The guitar had been given to him by Eric Clapton whom had played it on "While my guitar gently weeps" for Harrison. Gibson custom are currently doing a reissue of the guitar which features a vinyl copy of The Beatles' "White album" and a hand signed certificate of authentication, signed by Clapton.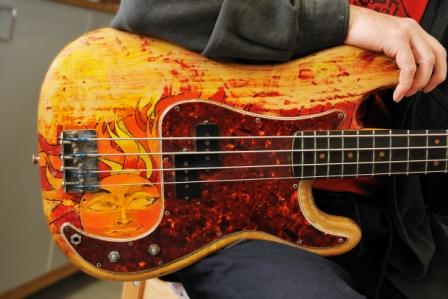 Klaus Voormann (Born 1938) and his Precision bass that he painted himself. Voormann is best known for being an award winning artist, having done the artwork for The Beatles' 1966 album "Revolver", among other work. As well as being an artist Voormann is a session musician, having played on George Harrison's albums "All things must pass" and "Dark Horse" , and played with Harrison in 1971 in his "Concert for Bangladesh". Voormann also played bass with the Plastic Ono Band, and played bass on John Lennon's "Imagine" album, as well as his single "Instant Karma!" (though this is also credited to the Plastic Ono Band), and as a session musician Voormann also filled in a few shows for Eric Haydock when he left The Hollies.


I apologize if any of the posts seem repetitive, my previous blog had been hacked and deleted.